… but none we can make.Yet.
First thing Saturday, we moved a little more north along Long Island to Thompson Bay and found ourselves a deep and sandy spot to secure our hook.
Christie and Mili headed in to town to explore the local farmer's market, check out the grocery store and hike across the island to beachcomb along the Atlantic side of Long Island. With the gals off the boat and with room to work (visualize tools everywhere and our home in disarray), the guys excitedly jumped into the watermaker install.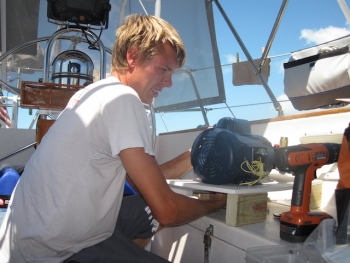 Matt working to hook up the pump motor
After hooking up the pump motor and a few calls with the factory, it became apparent there was a problem. Our power source, a Honda 2000 generator, couldn't start the motor even though the watermaker is designed for this exact generator. Joined by Ken, a certified electrician from a neighboring trawler," Barbara", we double checked our wiring, ran multiple tests with different generators and none solved the problem.
In the meantime, Christie and Mili had hiked in a few extra miles all over Salt Pond (the town) tracking down parts that we ultimately wouldn't end up needing. Frustration started to settle over "Kaleo" as we had hoped this would be a near-seamless install. But, who are we kidding. It's a boat project after all.
Matt talked with the company's co-founder a few times and was assured that they are willing to do whatever it takes to get it up and running. The only problem is that shipping a new motor out here is much more complicated than simply making a parts exchange back in the states. It's a multi-week ordeal involving air freight, customs, duty fees, etc. Not to mention the time it will take for all this to happen and we're not keen on returning to George Town to wait again. The builders are looking into how we might fix it out here and we'll go from there.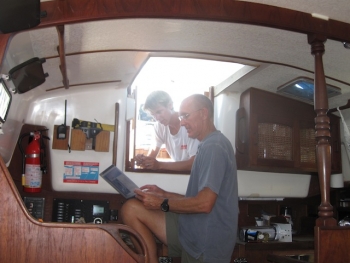 Ted and Matt discussing the install
Frustrated at having waited in George Town for an extra few weeks and now still without a watermaker, we cleaned up then joined Ted and Mili aboard "MG" for dinner and a distracting game of Mexican Train. "MG" said they are happy to make us water anytime and we truly appreciate what a blessing they are to us. The dinner,  game and company were the high points of the day but we returned to Kaleo exhausted and still a bit deflated.
N 23° 31.09 / W 75° 08.04