The past two weeks have been a whirlwind of activity, all in effort for tomorrow morning. The must-do preparations have been crossed off the list (either completed or deemed not truly a must-do) and we've enjoyed some treasured time with family and friends.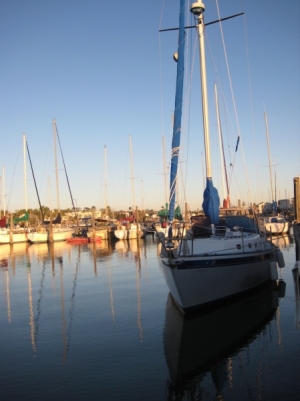 Kaleo staged for departure
Tomorrow morning, we set sail on the dream we've been pursuing for the past few years. We're going into it with a lot of excitement, a little trepidation, and genuine wonder. But above all, we are thankful. First, to the Lord for a dream becoming a reality, to our families for all of their help and for lifting us up to reach this dream, to our friends for their encouragement and to our marina neighbors, who have become friends, for their advice, tool swaps, and making the marina feel like home.
To help us remember what has been a blur and to share with you what's been going on since we left Dallas, here are a few highlights:
Our friend, Maurice, joined Matt aboard for a week to finish re-wiring the boat, mark the anchor chain, rig the reef lines, make a fender board, etc.
Survived some cuts, bangs and bruises as we worked in every nook and cranny of Kaleo
Installed a hot water heater (Kaleo now has almost all the luxuries of a modern home, just on a much smaller scale)
Finished loading and organizing provisions aboard
Spent a rainy night discovering a leaky gasket in the v-berth hatch (poor Matt awoke to water slowly drip, drip, dripping on his forehead)
Sold Christie's car and tucked Matt's truck in storage along with the rest of our land life belongings
Made about a million and one trips to West Marine, Home Depot, Target, Walmart, and a host of other stores for final stock-ups
With the help of Christie's dad, installed the chart plotter, loaded the safety locker (holds the liferaft, life jackets, safety harnesses, and EPRIB) and built a shelf for the dinghy gas can
Got to celebrate Christie's birthday with her family (thanks for treating us to a celebratory dinner at her favorite local Mexican restaurant, Mas Amigos! and for having us as house guests for awhile)
Continued the birthday celebration with a visit from our friend, Crystal, for a dinghy ride to have dinner at Opus Bistro near our marina
Enjoyed a little send-off with our marina neighbors and received some great books, a set of Pardey cruising how-t0 DVD's and lots of helpful advice
Received a visit from some fellow cruisers, The Sittons, who have their boat in a marina close to ours and have recently cruised the Bahamas. They generously shared their experiences with us and gave us a special super absorbent towel for drying off quickly and a conch shell they brought back from the Bahamas for us to return when we harvest our own.
Started adjusting our plans to the shorter days of Daylight Savings Time (sunrises at 6:30, sunsets at 5:30!)
Today Kaleo got a much needed bath, we painted the registration numbers on Squeak (our new dinghy), ran a few final errands (thanks Mike for letting us borrow your truck!), secured the dinghy on deck and are now off to get some much-needed rest. We feel a bit like kids on Christmas Eve with anticipation for what tomorrow will bring.
As we get underway, we want to point out a feature that's now on the blog, our live track map. Click the GLOBE ICON in the upper left-hand corner of the site and you will see a map featuring the last position report from our SPOT tracker. It's a new feature, so please contact us if you experience any technical trouble.