Part of the fun of boat projects is crossing them off the list and we are finally seeing some big progress in getting some crossed off. Over the last few months we got quite a bit done, though it was all planned to be done months before that. One of the details about refitting a boat that we've learned is that every project "costs twice as much and takes three times longer than planned". Boat friends had warned us of this reality but it didn't really sink in until we started experiencing it.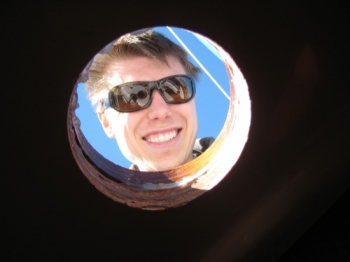 Matt installing solarvent above head
Often times what takes so long is waiting for parts. Matt makes an order and sure enough they get delivered the Monday after we had already been down to the boat for the weekend (we travel 4 hours each way to work aboard Kaleo about every other week). Along with waiting for parts to arrive comes the truth that every project takes longer than planned, no matter if you plan in extra time for it. That means there were quite a few Sundays we leave the boat with projects partially done. And there are of course the times we have all the parts and all the time but weather (too cold or too wet) manages to get it the way to see bigger progress.
We've even dropped the car keys in the water (not unlike the wedding band a few months before) but luckily had the Davis Key Buoy on the keychain, which floated the key to the surface just as promised.
Over the last few months we've crossed of the following (but there's still plenty of work we're in the middle of and ahead):
Head
From hand-pump low quality to bluewater-worthy Lavac electric toilet

Waste tank monitor

Granite counter top

Faucet

Shower head

Shower head cabinet
Galley
Double sink

Pressure water faucet

Sea water and fresh water foot pumps & faucets

Water filter

Sink fillers

Reglued galley drawers
Salon/V-berth
Upgraded to LED lights

Nav station R/W LED light

V-Berth fan

V-Berth mattress fr

om

Riverside Mattress

Cleaned A/C filters

Removed old velcro from salon cushion backs

Hang photos
Deck
Find chain stripper

Weld chain stripper

Install Solarvent

Re-hung shore power cord

Had dinghy repaired

Re-bedded chain plates

Re-bedded whisker pole holder

Replaced windlass footswitch

Replaced mainstay tangs

Replaced dorade box tops

Cowl vents (on order)