After a few day hops up the ICW we landed at Hidden Harbor Marina to explore the nation's oldest city, St. Augustine, FL.
Historic downtown St. Augustine from the water
While we had plans to take a mooring ball ($20) at the municipal marina (anchoring is a little sketchy with the currents), a blog friend, "Captain Peppers", turned us onto Hidden Harbor Marina. Just two miles up the San Sebastian River, the marina truly is one of St. Augustine's best kept secrets! Secure, impeccably clean, cruiser-managed and ideally located across from the winery and a short walk to beautiful, historic downtown St. Augustine. Ah, and their rates – just $25/nt., utilities included! Bonus: There's even a community garden where we were given fresh tomatoes and potatoes upon checking in. We can't say enough about this place and its outstanding dockmasters, David and Hayla.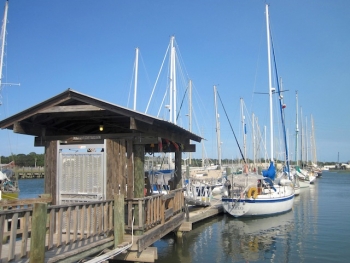 "Kaleo" resting at Hidden Harbor Marina
With Kaleo tied up we spent the past two days:
Hiking to West Marine for a few project parts and the grocery store to stock up on fresh foods
Making Chicken Tiki Masala dinner which before joining "Captain Peppers" (who lives at Hidden Harbor) for a sundowner aboard his cruising boat. We had a nice time hearing about his cruising plans and sharing some of our experiences.
Exploring Old Town St. Augustine, with its narrow cobblestone streets, quaint cafes (snack break at the Spanish Bakery for empanadas), unique shops, the grand Flagler College (the former Ponce de Leon Hotel of the 1890's) and the Castillo de San Marcos, the oldest masonry fort in America
St. Augustine City Hall
The east cannon wall of the fort
Just checkin' things out

Lunching at Carmelo's Marketplace, home to the best pizza in town and only a short walk from the marina
Touring San Sebastian Winery, where the vintners make several varieties of sweet wine out of the native Florida muscadine grape. The gratis tour included an extensive tasting session and all sorts of wine-related recipes and entertaining tips from our enthusiastic guide.
The winery on the San Sebastian River, across from the marina

Casks full of Port
Listening to Hawaiian Jazz music at a complimentary concert in the plaza with a wine smoothie – yes, a frosty wine smoothie (!) to top off the night
Concert in the Plaza
Checking off a few boat projects like changing the oil, topping off fuel, replacing a deck fill and housecleaning
Baking a stuffed artichoke to share with sundowners
Stuffing the artichoke to steam/bake

Driving, yes driving, to run a few errands as David let us borrow the marina truck (another perk of a cruiser-managed marina)
Hanging out with new friends, Gregg and Jo on "Simpatico", who were in the Bahamas this season but we had just met while anchored in Daytona Beach. They're a lively couple from Nebraska and we enjoyed talking all things cruising and which boats are mutual friends.
Overall, St. Augustine is a city filled with rich Spanish history and was a great way to wrap up our sail through Florida.