Also while in the Jumentos, we needed bread yet were no where near the convenience of picking up a loaf. So, it was round two of tapping into my inner "Betty Crocker".  With Mili's coaching, we baked (grilled actually) the following bread recipe.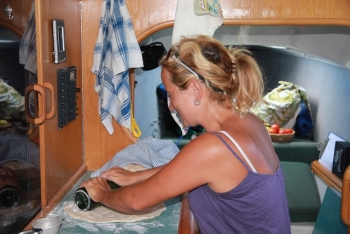 "
Betty" going to town with her wine bottle rolling pin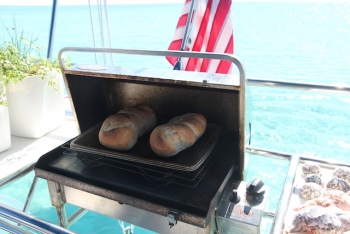 A couple of freshly grilled loaves
Dejarlo's* French Bread
Small Bowl – Stir together yeast mix and let rise
1/2 cup warm water
1 tsp sugar
2 TBSP yeast
Large Bowl – Stir together
2 cup warm water
1/4 cup sugar
2 tsp salt
2 TBSP oil
When yeast mix has risen, add to large bowl
Add 6 1/2 cups of flour (if using wheat or multigrain, use 2 1/2 cup wheat or multigrain to 4 cups white)
Stir into ball and set aside
Grease large bowl
Put mixture back into large bowl and cover to let rise
Set timer to 10 minutes
Push down with spoon and stir around
Reset timer for a total of 5 times (yes, that's an hour to let the bread rise and fall, rise and fall, and rise)
Divide into 2 balls (for 2 large loafs) and let rise once more for 10 minutes
Roll each ball out into rectangles
Roll up from long side and fold ends under
Turn over and pinch sides together
Place on greased sheet
Cut diagonally across 4 times
Cover and let rise to double
Bake 20-23 minutes at 400°
* Recipe shared by Pam of s/v Dejarlo during her "Eating Well While Cruising" infosession in George Town.