When it comes to toting our gear from the boat and back and everywhere in between, we're set!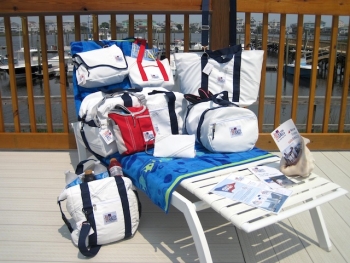 Our new Sailor Bags
The crew over at Sailor Bags generously shared an assortment of their signature bags to help outfit us along our sailing adventures. And they've certainly done so in style!
These bags are sturdy, fully collapsible, water resistant and guaranteed for life making them ideal for anyone active on and off the water. Being crafted from custom-woven sailcloth, they have a classic nautical appeal that keeps them in season year-round and adventurers like us organized on the go.
We first discovered their website when searching for durable, stylish and affordable bags to replace our bulky landlife luggage. While we could find durable bags out there, none seem to fit the full bill of style, value, and durability as ideally as Sailor Bags.
With Kaleo dockside while we visit family in Carolina Beach this week, we've been using our bags continuously to haul clothing and gear back and forth from the boat to the pool, condo, cars, and beach. They pack easily with large openings secured by sturdy zippers (like the kind on a dodger or bimini) and the tough sailcloth can handle being tossed onto the dock or sitting on the cement at the pool.
Sailor Bags are made in almost every style and size that you could want. Duffles, Totes, Cooler Bags, BackPacks, Messengers, Stow Bags and more. In case you're curious, we have the Mini and XL Tote, Medium and XL Duffel, Messenger Bag, Wristlet, CoolerBag, and LunchBag.
Check out their site to learn more and join them on Facebook where they have fun giveaways, discounts, and other gift ideas.