An often-asked question these days is "Have you had any strange cravings?"
While I haven't had any desires for weird combinations like pickles and ice cream, I do feel more in the mood for certain foods and beverages. But, it's nothing so out of the ordinary that it could be defined as a "pregnancy craving" rather than simply a "Christie craving". That being said, there have been a few must-haves and a few must-not-haves: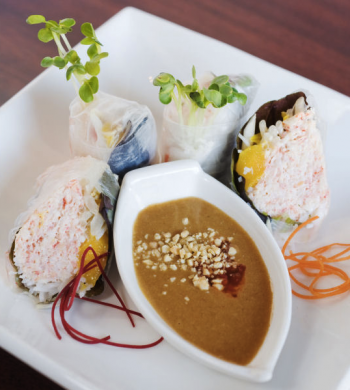 THE must-have Summer Rolls – Vietnamese spring rolls with snow crab, shrimp, mango, vermicelli noodles, bean sprouts, mint, spicy peanut dipping sauce!
Cravings:
Could eat for any meal, must have multiple times/week: Blue Fish Summer Rolls!
Closely followed by Blue Fish's Sundae Roll (tempura shrimp, cream cheese, king crab meat, topped with crab stick, chili, eel and mayo sauce)
Thai food (always been a fav but tastes even better these days)
Fruit (grapes, all citrus, watermelon, cantaloupe, apples, any really)
Belly-Bars (S'More to Love is my fav)
Pirates Booty (all natural, puffed puffed rice and corn snack)
Coconut Water (delish, chock full of calcium and minerals, more electrolytes than packaged sports drinks, more potassium than a banana)
Starbucks Carmel Brûlée Latte (1/2-caff, soy milk, no whip)
Fat Straws Soy Chai Bubble Tea
Pink Berry frozen yogurt
Taco Bell Nacho Supreme (I crave it, baby doesn't, baby often wins)
Sleep (and lots of it)
Prenatal massages
Sailing (motor off, sails up, cool breeze and warm sunshine)
Aversions:
Plain water (tastes like metal, though I chug through as much as possible)
Most prenatal vitamins (so far, Nestabs seem to be the only ones staying down)
Avocados (bummer since I l-o-v-e-d them before)
Meat of any kind (while I didn't prefer it pre-pregnancy, I loathe the thought of it these day)
Taco Bell Nacho Supreme (I crave it, baby doesn't, baby often wins)
The registry (still too overwhelming)
Housecleaning (says a lot coming from a supreme neat freak)