To celebrate Christie and Steve's return to George Town, and with the Texas Navy starting to take diverging routes, everyone gathered at a restaurant in Red Shanks to reconnect and enjoy each other's company.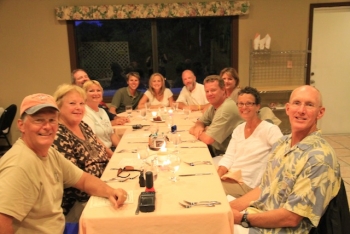 A Texas-size celebration
Ted had made reservations for 11 and we upon arriving, we were greeted with a large pre-set table with lit candles, linen tablecloth and napkins. "SYL" had arrived a few minutes early and was thoughtful enough to assign seating for the two guests of honor. Hand drawn on little napkins were "Steve from Anchor Management," "The Admiral" and Matt's sign "The Admiral's Servant."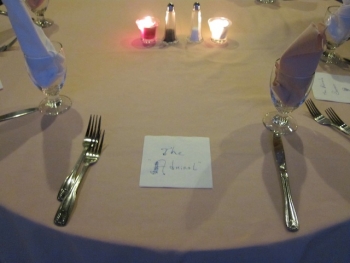 Christie's place card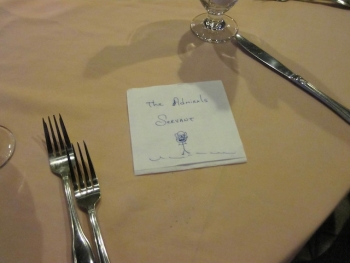 Matt's place card
As we sat down, the chef/owner brought out complimentary conch fritters to start the evening. Rum punches and Kaliks (Bahamian beer) were lifted as we toasted to our friendship and soon enough the table was filled with cracked conch, cracked chicken, garlic shrimp, and New York Steaks with steamed broccoli and honey-glazed carrots.
The food and service were top notch and the evening was spent over vibrant and engaging conversation. On the dinghy ride home, we stopped to say farewell (for a couple weeks) to "SYL" who left for Turks and Caicos this morning.
We've spent the past couple of weeks waiting in George Town for our watermaker to arrive and it should finally be here on Thursday. Once picked up, we're looking forward to setting sail for Long Island on Friday.