Recharged and ready for the day, we enjoyed a warm and filling breakfast of Migas, then dinghyied over to "Morning Glory" and "Sea Yawl Later" who were rafted up together.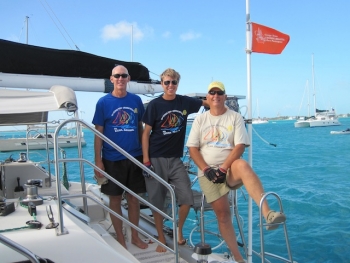 The "SYL" crew ready to race
It was the Regatta's "In-Harbor Race" Day and Matt was crewing aboard "SYL" with Ted from "Morning Glory" under the trusty Captain Rusty.
The guys prepped the boat and soon sailed off leaving the Admirals aboard "Morning Glory" to cheer on the team and enjoy some girl time.
The In-Harbour Race is two laps around a race course marked by large floating buoys and involves sailing both up and down wind. This type of course means that each boat/team will have to make multiple tacks and jibes in order to successfully run the course, which translates into a lot of work for each crew member.
Three fleets of mono-hulls started, then the gun sounded for the multi-hull race as five catamarans sped toward the start line (in a sailboat race the boats are already sailing and can cross the line after the gun but not before, so each team tries to time it as close as possible).
"SYL" crossed the start third in their class and were disappointed as their start had given the leader at least 20 seconds on them. Over the next hour, boats of all sizes and colors battled for the best time on the course.
At one point, "SYL" was neck-in-neck with two other cats, "Guiding Light" and a St. Francis 50, "Penelope", but in the end, the St. Francis pulled away from "SYL" and "SYL" shouldered in front of "Guiding Light."
Once more around the marks and "SYL" was third cross the finish line with country music blaring from the loud speaker. Each boat has a (PHRF) rating to help level the playing field, otherwise it would be no contest for the 33 foot "SYL" to compete with the 50 foot St. Francis, as the bigger the boat, the faster it can typically go. The official results won't be released until the Friday night results party but according to our calculations we think "SYL" came in first or second place.
If there was an award for having the most fun underway, the guys on "SYL" would taken top prize. Their music filled the harbor and had other racers dancing on deck while the guys practiced their "Wind"-inspired choreographed race chants and stance.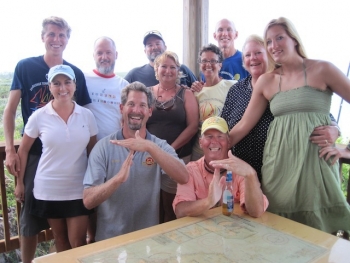 The Texas Navy at the Regatta Post Race Party

After the race, we napped and then headed up to the post-race party at St. Francis Resort where "all the racers tell stories about how well they did." After spinning a few yarns and talking with others, we dinghied home as Matt grumbled about his sore back, neck, shoulders and arms, all from grinding on the winches. He won the prize for first one to bed and soon thereafter, we we're both sound asleep.