We just spent a full weekend aboard where we gained greater confidence and even more excitement about our sailing dream. In short:
We bought a great outboard motor for the dinghy and explored the waterways around our marina with it
Discovered the Clearlake Shores Farmer's Market where we found fresh, local food to enjoy and share
Reached new heights as Christie was hoisted up the mast to plan for mounting our new LED tricolor/anchor light
And were coached and challenged to sail Kaleo to her full potential with a sailing lesson from John Brown of Sea Lake Yacht Sales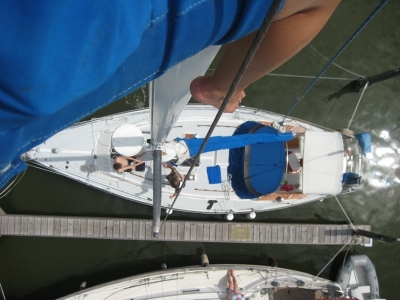 Christie's view of Kaleo from the top of the mast
We started Saturday early at the Farmer's market, then Christie's parents joined us for breakfast and delivered our boat registration stickers. They stuck around for the show as Christie was hoisted up the mast. After snapping a few photos and taking in the view she came down so we could prep for our sailing lesson with John. John is a yacht broker and ASA certified sailing instructor who came aboard to spend the afternoon teaching us how to trim (sailing term for adjust) and shape the sails.
This was one of the most beneficial afternoons sailing and I'd recommend it to any sailor, no matter your skill level. We expected that John would show us just how far Kaleo could heel (the way a sailboat leans when sailing) while going faster but it was quite the opposite. He coached us on how to sail the boat with less heel, while going faster, making us more efficient sailors. We were also challenged to point higher into the wind than we've ever been able to. We even got to fly our (very bright) spinnaker and ran wing-on-wing back to port. We really enjoyed having John aboard as he has a wealth of knowledge and generously shares it. If you sail in the Galveston Bay area, we suggest you book a lesson with him.
That evening turned into a neighborhood gathering as a few of us got together in the cockpit of a neighbor's boat and talked until the wee hours. During the conversation we made a plan for a three boat trip to Freeport in about a month. It will be another chance to build and refine our sailing skills. Sunday we wrapped up a few boat projects and planed for Matt to rebuild the anchor locker next weekend.